Pivotal Tracker Reviews
& Product Details
What is Pivotal Tracker?
Pivotal Tracker is a product management and planning solution explicitly created for contemporary software development teams. Over ten years, Tracker has been honed and adjusted to provide just the proper structure to promote team communication and cooperation. Tracker enables an agile workflow. The team has easy access to project status, workflow, communications, and documents in one location, allowing product owners to stay informed and developers to prioritize their efforts. Product owners may be sure that the data they see accurately reflects the state of all their projects because Tracker was made simple to use and quick to learn.
Tracker encourages discussion through the transparency of its workflow to make your team's work more efficient. Each story can change based on reader comments and conversation, thanks to story comments. Some claim that Tracker makes project management and labor into a game. Maintain your efforts to increase your velocity by refining your workflow and spotting issues using Tracker's transparency. Watch the colors of Tracker come to life as your team works together to tell stories from beginning to end and as your product's vision takes shape. Tracker also provides an open API already integrated with several well-known third-party apps.
Found in these Categories
Best For
Pivotal Tracker is changing how teams build software.
StartUps

Freelancers

Small Business

Medium Business

Large Enterprise

Non-profit Organization

Personal
Cloud, SaaS, Web-Based

Mobile - Android

Mobile - iPhone

Mobile - iPad

Desktop - Mac

Desktop - Windows

Desktop - Linux

Desktop - Chromebook

On-Premise - Windows

On-Premise - Linux
Company Name

VMware, Inc.

Located In

United States

Website

pivotaltracker.com
Starting from:
$10 /month
Pricing Model: Subscription
Pricing Details:
You can start using Pivotal Tracker with their Free plan, which includes up to 5 collaborators. The Startup plan has 6-10 collaborators and costs $10 /month, while the Standard plan allows 11+ collaborators and has a price of $6.5 /collaborator/month. With both plans, you can get a free trial. An Enterprise plan is also available, but you will need to contact them.
Workflows

Task Management

Task Prioritization

Project Planning/Scheduling

Prioritization

Kanban Board

Milestone Tracking

Issue Management

Collaboration Tools

Agile Methodologies
Additional Features
API

Backlog Management

Product Data Management

Project Planning/Scheduling

Project Tracking

Task Editing/ Updating

Task Progress Tracking

Task Scheduling

Task Tagging

Team Management

Template Management

Testing/QA Management
Software development tool used by agile teams.
See everything the team's working on in one place.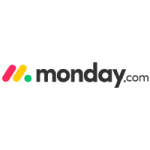 The Work OS that lets you shape workflows your way.
Pivotal Tracker Related Insights