1Password Reviews
& Product Details
What is 1Password?
1Password is a secure, scalable, and easy-to-use password manager that the world's leading companies trust. Using 1Password makes it very easy for employees to stay safe online. Once 1Password is part of the workflow, good security habits become second nature. It unifies all the user passwords into an encrypted vault that users can further access with a single password. It is a simple yet super-effective management tool. In addition, it also acts as a secure document vault, a hub for secure notes. Finally, it provides a super-secure environment to store credit card information and auto-filled form entries.
Moreover, everyone should use a password manager in today's world. It is the most important thing to do – alongside two-factor authentication, thus keeping the online data safe. Today we will evaluate one such tool called 1Password, which offers the best combination of features, is easy to use, and is simultaneously compatible and secure.
Found in these Categories
Best For
The easiest way to store & use strong passwords.
Recommended For
StartUps

Freelancers

Small Business

Medium Business

Large Enterprise

Non-profit Organization

Personal
Deployment
Cloud, SaaS, Web-Based

Mobile - Android

Mobile - iPhone

Mobile - iPad

Desktop - Mac

Desktop - Windows

Desktop - Linux

Desktop - Chromebook

On-Premise - Windows

On-Premise - Linux
Contact
Company Name

1Password

Located In

Canada

Website

1password.com
1Password Pricing
Starting from:
$2.99 /user/month
Pricing Model: Subscription
Pricing Details:
You're probably wondering how much you will pay for this great password manager. Thus, let's find out from this 1Password review if purchasing a good product is too expensive. First, there is no free version, but users can opt-in for a free 14-day 1Password trial. Moreover, they offer solutions for different needs, like family packages or paid plans for businesses.
See 1Password Coupons
1Password Features
Access Controls/Permissions

Compliance Management

Credential Management

Data Security

Multi-Factor Authentication

Password Generator

Password Management

Password Synchronization

Privileged Account Management

Single Sign On

User Provisioning

User Management
Additional Features
Activity Tracking

Data Security

Two-Factor Authentication

Device Management

Encryption

Threat Intelligence

Real-Time Monitoring
1Password vs. Similar Products
Let us look into the little background of this awesome application. 1Password was founded in Toronto, Canada, in June 2005 by co-founders David Teare and Roustem Karimov. Nobody knows what went on in their minds when they decided to start AgileBits (the company they used to develop 1Password), but we sure are glad they had the foresight to create something as useful as this password manager.
Having been in business for over 15 years, 1Password is an outlier in a sea of generic start-ups. They claim to have been profitable from day 1, which we found very impressive because it's not something many companies can claim to have achieved. They also grew their business the traditional way, with none of that fancy venture capital funding all the hipster companies use to grow their beards these days. Hence without any further ado, let us dive into the detailed review of 1Password.
1Password – Password Manager 
The company promises that one need not worry about their passwords while using 1Password. And we did find valid reasons for the same; for one, the tool uses high-level AES 256-bit encryption to keep your data secure. Additionally, 1Password provides a Secret Key — a security code stored on your device that is required to log in to your 1Password account. Finally, the 1Password password manager maintains recent penetration tests by ISE and security audits by Onica, with past pen tests and security assessments completed by AppSec Consulting, nVisium, and CloudNative.
Overall, 1Password designed every feature to ensure only you can access your account's passwords, financials, and other personal information. In addition, multiple security levels protect it from hackers' attacks, and the chances of stealing the data at rest and in transit are next to zero. To conclude, 1Password is a safe and good password manager, especially for advanced users. We will look into its features in the latter part of the review.
How to use 1Password?
To start with 1Password, one must first sign up for an account by entering the name and email address. Next, a verification code is sent to the users' email addresses once the account is created. Next, we need to create a strong master password, which should be easy to remember but hard for anyone else to guess. Once the account is created, users can use this tool's exciting features.
How secure is 1password?
1Password uses end-to-end encryption and complies with industry-standard security controls and multiple public security controls. Its certifications are available upon request, and it has been submitted to multiple penetration tests and security assessments. It has passed all of them with flying colors. In addition, 1Password assures that it has never had its data breached in the past, which we think is quite impressive.
Details of 1 Password Features
1Password offers a plethora of features that managed to rock our world. We have compiled certain features below, which we hope will help you decide and give you more knowledge about the tool.
1Password made it easy for new users to sign up, set up, and use their software. Not once did we feel lost or annoyed at the process. After signing up, the tool provides a secret key via a pop-up. Also, the UI is straightforward to use. The general public can get started with the tool without asking for help.
1Password's Travel Mode is a great feature for users who need to hide sensitive information when crossing borders — such as company encryption keys and social media logins. As border control officers can request to look through your phone to get proof of identity, they sometimes ask to open the apps to search through users' data.
When Travel Mode is turned on in the 1Password web account, only the vaults marked as "Safe for Travel" will be visible on the devices. So, vaults containing top-secret info will be hidden until Travel Mode is turned off. Simply turning off Travel Mode restores access to all of your vaults.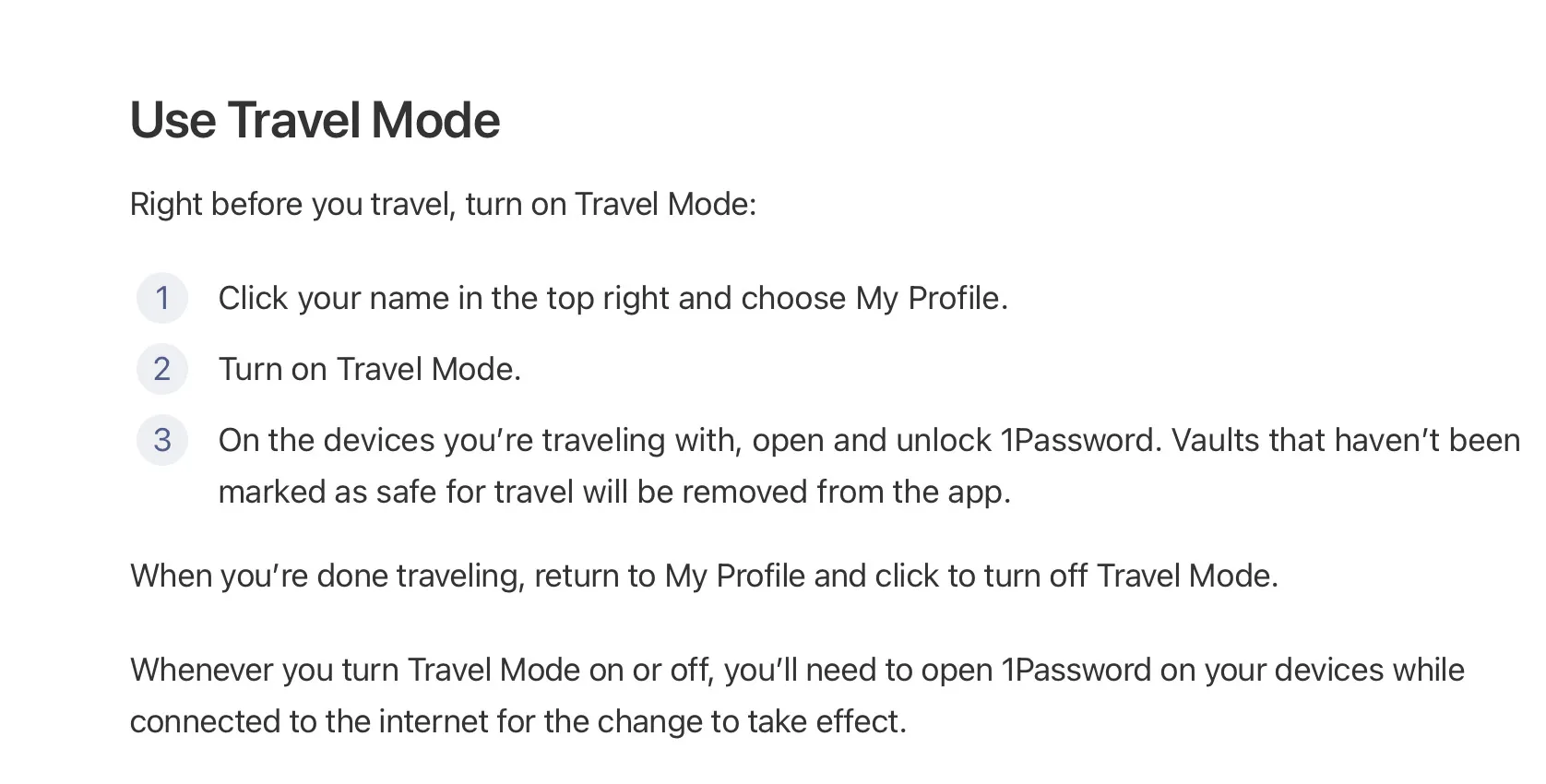 Excellent Browser Extensions
1Password in the Browser is the collective name for the newer browser extensions for Brave, Chrome, Edge, Firefox, and, more recently, Safari, which offer standalone functionality. This is how Chrome OS users can access 1Password, and how Linux users initially could have a graphical 1Password interface, though now there's a full-fledged Linux desktop app. While 1Password in the Browser isn't as full-featured as the primary app, it covers the basics and functions of the standard extensions and 1Password Mini.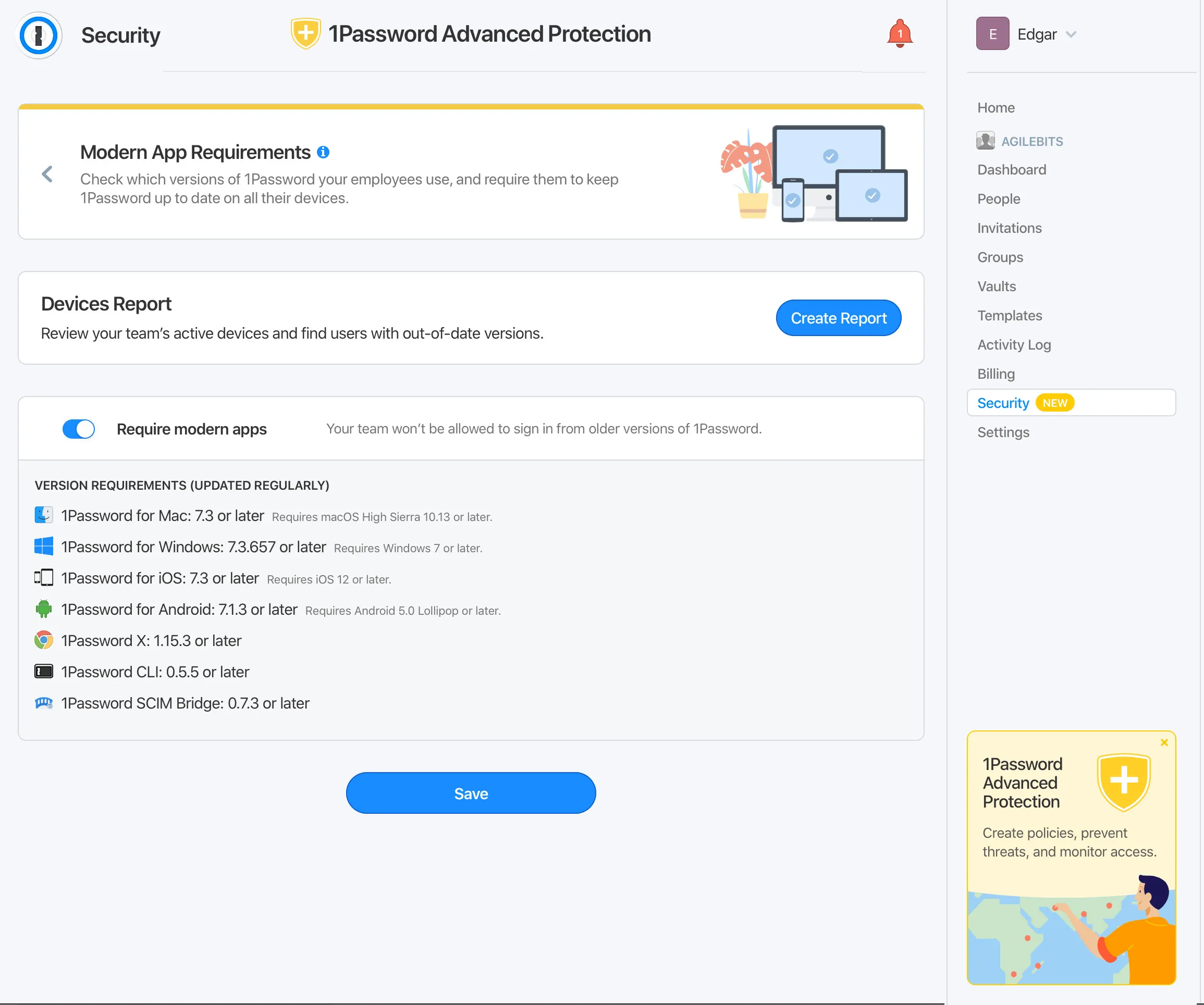 1Password offers mobile apps for the iOS and Android operating systems. These apps allow users to save and autofill passwords from the linked 1Password account and autofill forms. For the same, one may have to enable the autofill function in settings.
1Password maintains an extensive FAQ and searchable user forum, which can find answers to common questions. For more complicated questions, 1Password maintains support channels by email, Twitter, and forum response. It would be nice to see phone or chat support available during hard-to-resolve issues. VIP support is available for business plans or higher, but a relatively fast but not instantaneous email support architecture is the best option for most users.
1Password Review Conclusions
To summarize this review, 1Password is one of the hardest password managers we've had to pass judgment on because it's good. It has a great track record, is completely reliable, has never been hacked before, and has the best security measures on a password manager. In addition, setting up was so easy, and using it was quite effortless.
1Password is one kickass password manager with a few kinks in its system to wrap it all up. However, one of their strongest perks would be their price. So if you're looking for a password manager that works and gives you great value, 1Password is the one you should go for.
1Password Related Insights