InVideo Reviews
& Product Details
What is InVideo?
The Invideo app is video software that people can use to create videos using branding and custom content and share them on websites and social media platforms. Also, the app has pre-made templates, modern editing tools, and a large library of videos and images from popular sites like Shutterstock and Storyblocks that users can utilize.
InVideo is an online video maker that anyone can use to create video ads, and you can share these InVideo ads on many social media platforms. This video editor app contains thousands of pre-made templates that users can explore to edit videos that satisfy their needs. You can customize these templates to suit any of your business needs. Moreover, people can also use the tool to create voiceovers and multi-lingual videos that can last for 15 minutes.
People can use the automated text-to-speech functionality on the InVideo app for adding text and changing it into voiceovers. In addition, there are several pre-recorded voices in several languages that you can use for your voiceovers. You can also use InVideo's analytics and reports on metrics like total videos by social media platforms, impressions, social reach, and others to assist businesses in gaining a good understanding of the performance of their video content.
Found in these Categories
Best For
Create great-looking videos that engage better & deliver leads.
StartUps

Freelancers

Small Business

Medium Business

Large Enterprise

Non-profit Organization

Personal
Cloud, SaaS, Web-Based

Mobile - Android

Mobile - iPhone

Mobile - iPad

Desktop - Mac

Desktop - Windows

Desktop - Linux

Desktop - Chromebook

On-Premise - Windows

On-Premise - Linux
Company Name

InVideo

Located In

United States

Website

invideo.io
Starting from:
$30 /month
Pricing Model: Subscription
Pricing Details:
InVideo pricing has monthly & yearly options and offers two pricing tiers starting from $30/month. They also provide a free plan or a free version allowing you to create 40 minutes videos and export up to 60 videos/month. The videos in the free plan have a watermark. InVideo also has a free trial that you can enjoy before paying for any of the premium plans. In addition, you can save 50% OFF Business & Unlimited plans when choosing yearly billing.
See InVideo Coupons
Animation

Audio Editing

Collaboration Tools

Customizable Branding

Drag & Drop

Media Library

Privacy Options

Social Sharing

Templates

Text Overlay

Video Editing

Voice-over

Video Capture

Text to Video
Additional Features
Audio Capture

Brand Overlay

Bulk Uploading

Closed Captions

Customizable Templates

Mobile Screen Support

Speed Adjustment

Split / Merge

Supports HD Resolution

Video Creation

Video Looping

Text Editing

Video Support

Video Stabilization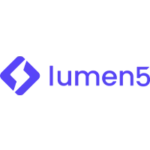 Grow your brand and drive demand with video at scale
One platform to push your storytelling boundaries.
Easily make your own videos.
The InVideo review we made showed that users could use the tool to create videos with stickers, photos, transitions, text boxes, layers, voiceovers, and other elements available on the application. To add up, people can create these videos in any language, and they can have any duration with a limit of fifteen minutes.
Create professional videos with InVideo
With InVideo, you can easily create professional-looking videos and share them on various social media platforms and your website, too, if you have one. Based on our review, you don't need to be a professional video editor before successfully creating videos using the app. InVideo is the best tool you can use to create any video content. Furthermore, it has pre-made templates suitable for all the main social media platforms that you can easily edit. Plus, InVideo has an easy drag-and-drop editing tool that allows you to include certain elements needed for your videos by simply dragging them.
InVideo has an excellent media library that contains many videos, music, and stock images you can use to create videos that look beautiful and professional. This great application features contemporary cropping, trimming, transitions, animations, filters, and layers. Moreover, you can access the InVideo app from any device because it is a cloud-based platform.
Social Media Video Maker
InVideo is a social media video maker that people can create video ads for social media platforms like Instagram, Facebook, Twitter, and others.
In conclusion, follow these steps if you want to create a video on InVideo:
First, create an account with InVideo and log into your account.
Second, go through the numerous video templates on InVideo and choose the one you prefer for the video ideas.
Third, customize your preferred template by changing its music, images, and videos. You are free to upload your own or include some from InVideo's media library.
Then, go ahead to customize your video by changing fonts, transitions, and animations.
Finally, preview the video, download it, and share it on any of your preferred social media pages.
List of InVideo Features
Now, let's see what kind of features you will get with this tool.
Merge videos
Large media library
Collaboration tool
Splitting videos
Share videos on social media
HD resolution
Audio tools to create voiceovers
Pre-made templates
WYSIWYG editor
Capture, edit, loop,  and stabilize videos
Preview functionality
The text overlay feature
Invideo Review Conclusions
InVideo is a popular online video maker tool that allows you to create stunning videos for your social media pages or websites. You can also use it to create voiceovers and video ads for your business. In addition, you can customize any of the pre-made templates on InVideo to create HD videos that look appealing.
An InVideo review showed that it has more than nine million media (with iStock inclusive), four thousand video templates, a vast audio library for each genre, and many other amazing features. With InVideo, you can easily create videos on the browser. In addition, it is a flexible drag and drops editor that anyone can use without previous experience in video editing. More than seven million people use this tool across more than 190 in more than 70 languages.
But the choice is yours. Many tools like this one will help you create beautiful video content that will speak for your brand. But, of course, no tool is perfect for everybody. That's why you have to choose what fits your needs. And if you liked InVideo from our review, you might try it for their free trial.