Doodly Reviews
& Product Details
What is Doodly?
Doodly is an online whiteboard animation software. It is simple to use by even beginners – you can make a video by just dragging and dropping. This is where its popularity comes, as everyone can use it to create marketing content, social media content, explainer videos, tutorials, and other kinds of videos without a sweat.
It is marketed as the easiest drag-and-drop doodle video creator. You can use it to create a whiteboard, or blackboard, for a vintage feel – green board and even glass board doodle videos.
Found in these Categories
Best For
Professional, Realistic Whiteboard Videos In Minutes.
StartUps

Freelancers

Small Business

Medium Business

Large Enterprise

Non-profit Organization

Personal
Cloud, SaaS, Web-Based

Mobile - Android

Mobile - iPhone

Mobile - iPad

Desktop - Mac

Desktop - Windows

Desktop - Linux

Desktop - Chromebook

On-Premise - Windows

On-Premise - Linux
Company Name

Bryxen

Located In

United Kingdom

Website

bryxen.com
Starting from:
$39 /month
Pricing Model: Subscription
Pricing Details:
There are two payment options available: monthly and annual billing. For yearly billing, you will save up to 49%. Although there is no Doodly free trial, it is one of the cheapest video animation software on the market. Also, they offer a 30-Day money-back guarantee. If, in these 30 days window, you find something that you don't like about Doodly, or you don't spark a connection, you will receive the money back.
See Doodly Coupons
Animation

Audio Editing

Customizable Branding

Drag & Drop

Media Library

Social Sharing

Stock Resources

Templates

Text Overlay

Video Editing

Voice-over
If you are searching for software that is easy to use to create whiteboard videos, you have come to the right place. Doodly whiteboard animations creator makes doodle video creation fun & easy. You can create incredible, professional animations in a matter of minutes with little or no video training.
Doodly Whiteboard Video Maker Review
In the following Doodly review, we will shed light on "what is Doodly," its benefits & drawbacks, how Doodly works, its features, Doodly pricing, and some Doodly alternatives.
As the Buggles used to sing in the '80, the video did kill the radio star… and images and text. There is no doubt that video marketing has blown up in the last decade, thus becoming an essential part of a successful marketing strategy. Whiteboard animation videos are a powerful marketing tool. They are catchy, easy to understand and have a great conversion rate. Therefore, it is one of the easiest ways to explain ideas and concepts to potential customers.
What is whiteboard animation?
It is a video style that illustrates static images drawn by a hand on the screen. Pretty simple, right? That is the guys' from Bryxen mission: to make Doodly fun, easy, and simple for everyone to use and to create professional-looking doodle videos.
How does Doodly work?
As soon as you install it, you will see that this video software has thousands of custom images in its library. So, to start making that awesome explainer video, choose the board style, select the image you need, drop it on the whiteboard, and Doodly starts sketching it for you.
You can also do so if you want to use your doodle or character. Just upload it in the gallery and then create your custom draw paths.
After the images are set, you need to add music or voiceover. Again, you have the royalty-free audio library, or you can add your voiceover or audio files.
You can also choose the hand type, as they made many female and male hands of various ethnicities.
Is there a learning curve for Doodly?
This is, of course, only a summary of how Doodly works. There is a learning curve, and if you want your whiteboard video to tell a story, you will first have to create the storyline, find matching characters and start putting everything together. You will also see that some animations may take longer to render.
Another essential thing to be mentioned in this Doodly review is that you can install it on multiple Mac and Windows computers. But, as mentioned before, it is only usable with an internet connection – no local cache.
Let's move forward through the review and see if all these statements are factual or just some marketing selling points.
Details of Doodly Features
This Doodly Review wouldn't be complete without having a walk-through of the features.
Doodly doodles whiteboard animation creator allows anyone, regardless of technical skills, to create professional doodle videos in minutes with simple drag-and-drop actions.
A summary of all Doodly features is as follows:
Big library of images and props to use
Variety of board styles
Variety of hand styles
Easy to use and learn
Multi-languages subtitles
Unlimited devices
Royalty-free music tracks
Regular and frequent updates
Easy to save and export videos
Custom draw paths
Big library of images and props to use
This feature might be the main reason Doodly is so popular. You have over 1000 resources created by graphic designers to help you make the perfect doodles video.
These resources consist of over 1,164 Character images with various poses each. You will also get 84 scenes, so there is something for every field of activity.
Now you also have the option to change the images from black and white to color. After adding the selected image to the canvas, click on the asset, and hit the gear icon to view the settings. Just change the rainbow switch on, and that's it.
Doodly Rainbow is an Add-On that is paid separately. With this feature, you can add colors to your doodle videos.
Although the most popular doodles videos are made with a whiteboard background, Doodly allows you to be unique and creative. You will get four different background styles: blackboard, whiteboard, green board, and glass board.
You will be pleased to know that you also have a Custom board where you can choose your background color.
Wide variety of hand styles
A doodles video is a video where a hand holding a pen sketches different characters on the screen. And Doodly has lots of hand types available to enhance your creativity. Left-handed, right-handed, various ethnicities, cartoon or real hands… you name it.
To change the hand style, you have to select the video you are working on, click Settings, choose the hand style that best matches your creation, and, finally, hit Apply.
Last but not least, you can choose what the arm uses: marker or chalk.
This feature is one of the best things about Doodly. You can create high-quality video content with a slight learning curve. All you need is a computer and creativity, as the drag-and-drop feature is fantastic and intuitive.
As it comes to video editing, Doodly is excellent for this too. You can edit the timeline by reordering, deleting, or duplicating scenes. Also, edit the hand and the video style. You will find a media list on the same screen where you can find all the elements added and the exact time you added them. You can reorder the media and adjust the duration of every scene.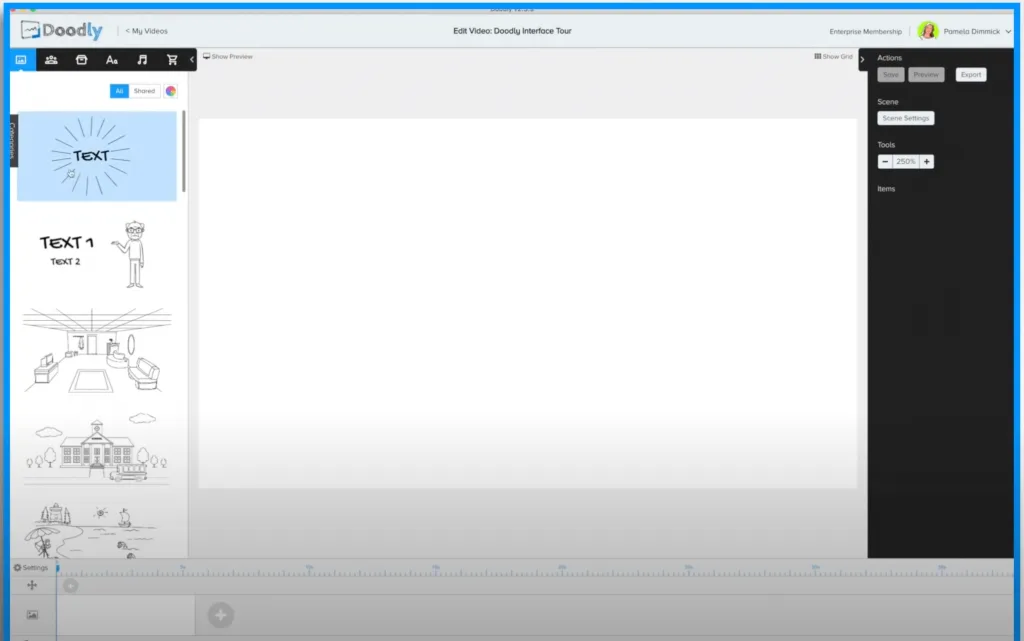 This one is a new feature added to Doodly. You can now add subtitles in multiple languages to any of the scenes. You can find it by clicking Settings and then changing the subtitle slider to on.
Once purchased, you can install Doodly on as many computers as you need. Doodly is compatible with Mac OS and PC (32bit or 64bit). The minimum requirements are Windows 7 and Mac OSX 10.10.
Remember that Doodly requires an Internet connection because the images are downloaded from the internet, and your saved projects are from their cloud.
Royalty-free music tracks & voice over recording
No video would be complete without music, sound effects, or voiceover. Adding audio to your video is simple with Doodly, as you get two soundtrack slots. One is for the background audio and one for voiceover. You can add multiple sound clips if you trim them to your desired length. Also, you can edit, cue, and adjust the volume of the sounds.
For voiceovers, you have two options. Either record it separately and upload it to Doodly or record directly from the software.
To record the voiceover, your device will need a functional microphone. You must click the + symbol at the Settings menu's bottom right and click on the microphone icon to start recording. The video will open simultaneously, so you can record the voiceover to fit perfectly.
Regular and frequent updates
Doodly video animation software is adding more features every month. Because it is a hybrid Web + Desktop app, the updates are auto-pushed straight to the computer.
For the Doodly Enterprise pricing plan, you will be granted access to the Doodly club, where you will get designer-created characters and images every month.
Another great thing about Doodly is that they have a Doodly Feature Requests Center. Here, the users can request new features to be added or vote on requests from other members. They will take into consideration the requests with a significant number of votes.
Easy to save and export videos
As you probably are already used to, sharing and/or exporting videos with Doodly is also easy. Doodly download options are quite a few. You can choose the file format (MP4, MKV, OGG, WebM), resolution, FPS (Frames per second), quality, and size/aspect ratio.
An essential feature is that Doodly does not include any watermarks, logos, or ads on your video.
If you want to share your content directly to social media channels or embed it on your website, you can also do so. Doodly is compatible with social media platforms like Instagram, Facebook, and YouTube.
As you are given the possibility to upload your images to Doodly, you can also make custom draw paths on any image imported. You can also import SCG paths and add SVG images. That said, your imagination is the only thing staying between you and the perfect animation video.
What you can do with Doodly doodles video creator
The video software is an all-round program that you can use to:
Advertise and market your products – very useful for all content creators and in video marketing
Create videos that will drive engagement on your social media platforms – social media marketers will surely fall in love with this video tool
Make tutorial and explainer videos
Create educational videos – the easiest way for teachers and speakers to make their lessons and messages stand out and be remembered
How to use Doodly
We can't state it enough, as having easy-to-use software saves a lot of precious time. In addition, Doodly has a soft learning curve and a step-by-step guide so your focus can stay on doing your projects and creating amazing content for your social media strategy.
The great thing about Doodly is that you don't need any technical or video-creating expertise.
Here is how it works:
Select the background of your choice
Select from the gallery or add the assets that you want to use—background, images, characters, audio, text, subtitles
If your project includes a voiceover, you can either record it directly in the tool or separately and then import it
Select the format and settings that best fit your project and hit export while you sing along to the Doodly doo song
That's it. You now know how does Doodly work.
Alternatives to Doodly
We are perfectly aware that no software is perfect, so if you find that Doodly isn't the one for you, we compiled a list of Doodly alternatives:
VideoScribe
Explaindio
Doodle Maker
Animaker
Toonly
You can see all alternatives and detailed comparisons on our Alternatives Page.
Doodly Review Conclusion
What is Doodly? It is one of the best and most user-friendly whiteboard animation software. We are sure it wouldn't be easy to find a more comfortable option than Doodly.
Although it has its downsides with the slow and time-consuming export process, it has many great features.
We are sure you will find Doodly a great partner for creating great and engaging video content, no matter your experience in video editing.