Pinnacle Studio Reviews
& Product Details
What is Pinnacle Studio?
The Pinnacle editing software lets people edit their videos to make them look professional or the way they want them. The Pinnacle video software helps its users to own the video content in  AVCHD, Blu-ray, DVD, or Video CD format. Moreover, this tool allows users to include complementary menus and burn them to disc. With the aid of the Pinnacle Studio HD, anyone can use all the features and tools it has to create movies.
Found in these Categories
Best For
Pro-level video editing software for Windows.
StartUps

Freelancers

Small Business

Medium Business

Large Enterprise

Non-profit Organization

Personal
Cloud, SaaS, Web-Based

Mobile - Android

Mobile - iPhone

Mobile - iPad

Desktop - Mac

Desktop - Windows

Desktop - Linux

Desktop - Chromebook

On-Premise - Windows

On-Premise - Linux
Company Name

Alludo

Located In

United States

Website

alludo.com
Starting from:
$59.99 /license
Pricing Model: Lifetime License
Pricing Details:
There are several Pinnacle products available, each with individual pricing. A 15-day Free Trial is available to take the video editing software for a spin. There is no subscription-based pricing available, only license-based with upgrades.
See Pinnacle Studio Coupons
Animation

Audio Editing

Media Library

Templates

Text Overlay

Text to Video

Video Editing

Voice-over
Additional Features
Color Correction

Selective Color

LUTs & Filters

MultiCam Editing

Split Screen Video

Screen recording

Video Stabilization

Stop Motion Animation

Lens Correction

Title Editor

Green Screen

8K Import

DVD authoring

Video converter

Slideshow maker
Pinnacle Studio, now in its 25th version, is a video editing software that is simple to use. You can use this tool to edit your videos using great keyframing controls and pro-caliber tools. Pinnacle Studio has everything you need to edit a video. You don't need to be an experienced video editor before using this tool–there are many tutorial videos you can watch to teach you how to achieve the effects you want to see in your video.
The Pinnacle Studio review we made revealed that this software automatically separates your media into various chapters. It also supports the drag-and-drop feature of all items so that you won't have issues arranging a video.
Corel Pinnacle Studio
The Pinnacle creative studio is an effective video editing tool that helps users edit videos or audio using pro-caliber tools such as screen recording, split-screen video, high-quality audio tools, and more than two thousand effects. Then, you can share it online, export it to other devices, or burn it to DVD.
The Pinnacle Studio Ultimate 25 provides a professional toolkit of video editing characteristics and top-notch effects to surpass the highest expectations of movie-making. With Pinnacle Studio, users can own video content in either Blu-ray format, AVCHD, DVD-Video, or Video CD. They can also include complimentary menus and burn them to disc.
Pinnacle Studio Ultimate 25
Pinnacle Studio Ultimate 25 is the latest version of the Pinnacle Studio products. This current version has a great combination of video editing tools and a solid variety of creative effects that enable users to accomplish excellent results. Plus, the Pinnacle Studio Ultimate 25 has improved video masking capabilities, intelligent object tracking, enhanced performance, and myriad creative possibilities. This tool makes it easier for you to create beautiful looks motivated by cinematic productions.
With Pinnacle Studio Ultimate 25, users can easily produce tremendous, professional movies or videos. In addition, it helps users in editing workflow to achieve control and accuracy over their video projects.
With Pinnacle Studio Ultimate 25, you are sure to have access to a sophisticated toolkit of video editing features and beautiful effects that enables you to go beyond your expectations about movie-making expectations. Here are the new updates you will see in the Pinnacle Studio Ultimate 25:
This effect helps to enhance your creativity while editing videos. It has blending masked areas, enables you to create superimposed effects, and also creates light bleeds or many other exposure and color effects.
This tool helps you to track any object in your video. It automates the mask re-creation process by identifying the real masked object and tracking it through the chosen episode, saving you time by removing the need to re-create masks for every frame.
This feature allows you to access top-notch content with higher resolution, fantastic colors, and excellent sound quality while importing 8K videos.
This Pinnacle Studio 25 Ultimate update reduces the stress of editing a video with the easy-to-navigate user interface and new creative effects. In addition, you can be in charge of your titles with an improved Title Editor and keyframe control for font color and size. You are free to experiment with enhanced 3D controls and new creative effects and enjoy a better editing process with enhanced performance while using the application.
Advanced color grading controls
On Pinnacle Studio Ultimate 25, you will be free to determine the mood and tone of your production with cinema-quality color effects. First, you can record your webcam and screen. Second, you can effortlessly join the footage with the MultiCam Editor using MultiCam Capture Lite. Last, you can burn your projects to disc using more than one hundred customizable menus and chapters and the ability to do more with the aid of Pinnacle MyDVD.
Professional audio editing features
You can use the professional audio editing features on this tool to create clear and distinct audio, remove irrelevant background sounds with the "Noise Reduction" feature, and alter the frequency or pitch of your audio with the aid of Pitch Scaling. Moreover, you can experiment with your sound by mixing different audio channels in 5.1 surround sound.
The ultimate mask creator
With this feature, you can create and manage your masks more easily with the aid of user interface and tool enhancements. You are free to convert clip masks to track masks, import nested projects into panel masks, and do other things.
First, Pinnacle Studio Ultimate 25 belongs to the Pinnacle Studio family, that Pinnacle Studio 25 and Pinnacle Studio 25 Plus are a part of.
Second, the Pinnacle Studio 25 Plus, Pinnacle Studio 25, and the Pinnacle Studio Ultimate 25, are all available in Japanese, Swedish, Danish,  Finnish, Russian, Czech, Polish, Dutch, Spanish, Italian, French,  German, and English.
Finally, the retail pricing of the Pinnacle Studio Ultimate 25 is 129.95 dollars, the Plus version is 99.95 dollars, and the Pinnacle Studio 25 is 59.95 dollars. The prices in AUD, Euros, and GBP have VAT included in them.
How to use Pinnacle Studio?
There are many ways you can use Pinnacle Studio. We will focus on how you can use Pinnacle Studio to make videos from photos. When using this tool to create a video, you don't need to use video footage; all you need is a group of still photos. Here is a guide on creating a video using pictures and music.
Install the Pinnacle Studio software on your device
Search for the Pinnacle Studio software online, download it, and install it on your computer. Afterward, carry out the on-screen instructions below to finish the setup process.
You can use the Pinnacle Studio SmartMovie feature to create a photo slideshow within a few minutes. Just check the library panel, and choose the "SmartMovie" icon at the bottom.
Drag and drop the images and videos you want to use into the photo section close to the page's bottom. You can reorder the photos within this section by dragging them along the line and dropping them into position. Keep including your preferred photos until you are done.
To include music, drag the sound files you want to use to the music section at the bottom. Also, you can click the clef button found at the bottom left corner of the audio bin to create a music soundtrack in ScoreFitter. After including media, the total running time of the source material is shown at the top-left corner of the bin, and it is not usually the duration of the final movie.
You can change every clip's duration on the right-hand side and decide if you want to include Pan and Zoom in your media to ensure that your slideshow has some motion.
Preview, edit, and export
If you are delighted with how your slideshow is set up, choose Preview on the footer bar under the tool. The project is made and presented in a preview window. You can go back to the settings to make changes to your media selections if you need to do that. Clicking the Preview button shows that the selected media are saved automatically in a Collection known as the "Latest Smart Creation." If you intend to use this grouping of assets I'm the nearest future, you can rename the Collection to avoid getting overwritten the next time you view a SmartMovie preview.
Details of Pinnacle Studio Features
Let us see what the main features of this video editing software are:
360 video editing
Split-screen video
3D title editor
Intuitive user interface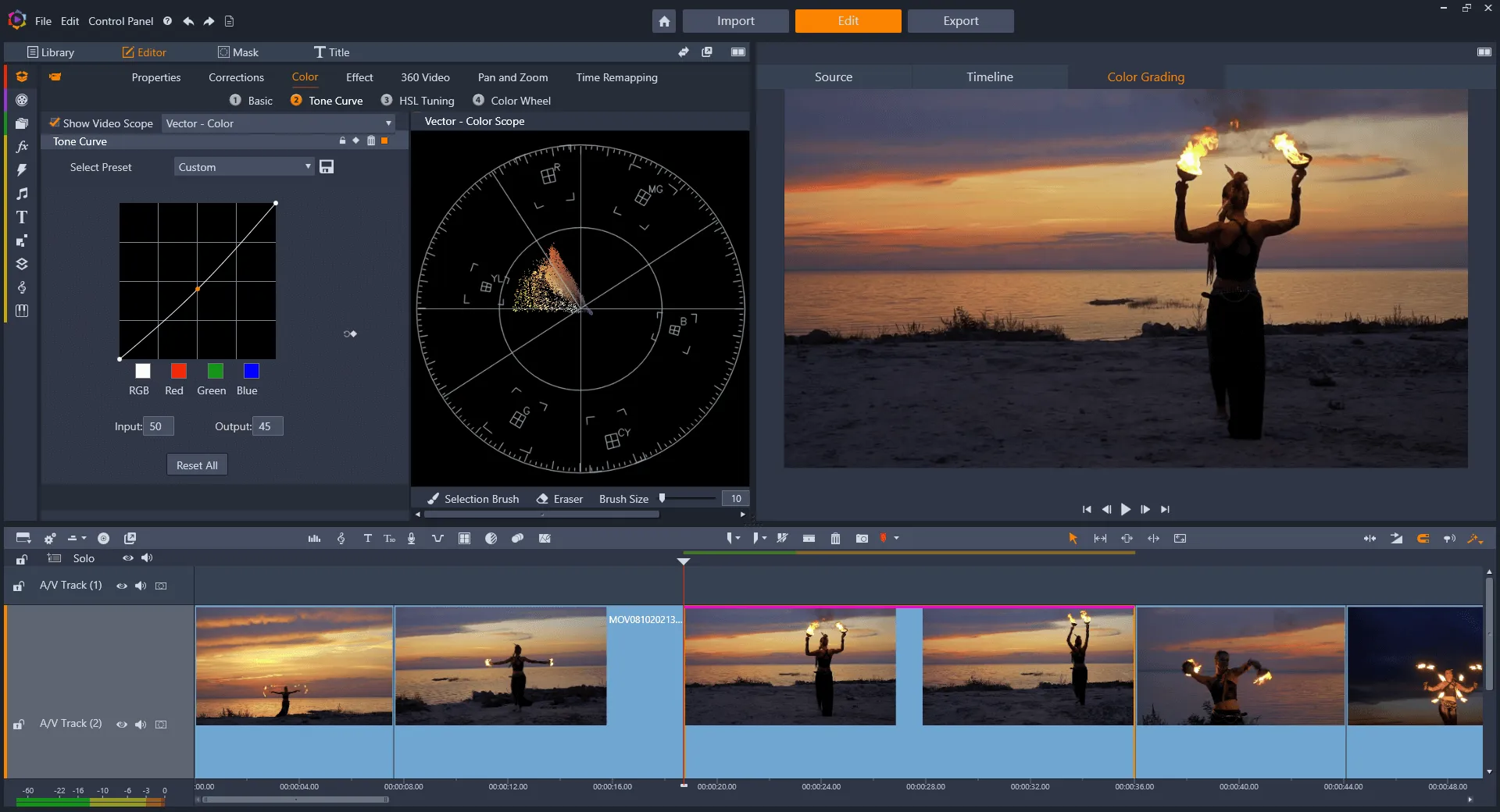 Paint effects
Morph transitions
Multi-track video editing
Multi-camera video editing
Effects from NewBlue
Advanced Color Grading
Wide-angle lens correction
Smart Object Tracking
Pinnacle Studio cost
As you can see above, the Standard plan or the entry-level plan costs $54.95. The Plus plan costs $89.95, while the Ultimate plan costs $109.95 (it now has a $20 discount).
For users who want to edit 4K or 360-degree content, you will need to pay for the Ultimate plan with features like video masking, unlimited video tracks, high-quality effects from NewBlue, and color grading.
Pinnacle Studio free trial
There is no Pinnacle free version available. However, the Pinnacle Studio free trial is available and lasts for thirty days – no credit card is required. Only first-time users can take advantage of the 30-day free trial & it is designed to give you a feel of the product before deciding to purchase.
The templates, filters, and titles available on the free trial are limited— also the free trial MyDVD software, screen recording software, and disc authoring capabilities. In addition, a watermark is attached to project exports. But the watermark is removed after you buy any of the paid plans. Also, after paying for the paid plan, users can transfer all the customizations, libraries, and projects they created during the free trial to the complete software.
Alternatives to Pinnacle Studio
Below are some of the Pinnacle Studio alternatives.
Titler Pro is the best tool to include titles in your video projects. This tool has more than seven hundred professionally crafted designs that you can use to get the perfect fit for your project. You can also use it to customize the shape, color, animation, and other things to suit your preferred look and have excellent graphics within some minutes. You can create professional graphics with this software, and it has an intuitive interface with a library of creative tools, effects, and pre-built animations. However, this software is only available for Cloud. It is best for video editors searching for motion graphics software and 3D animated titles. The starting price is 6,335 dollars for each license.
This tool is best for students, tutors, voice-over artists, and teaching experts. It is available on Mac and has a free trial you can explore before paying for the premium version. This application is used for editing images and videos, and it is straightforward to use. Furthermore, this tool can record, capture, and share videos.
This software is used in creating and editing videos in various formats such as Divx, WMV, .3gp, Avi, and others. This user interface is intuitive, so creating videos on the application is very easy. All you need to do is drag and drop video clips. More than fifty visual effects and transitions are available on the app. You can burn it to DVD so you can easily share it with people or upload it directly to YouTube. This software is available for Android, iPad, iPhone, Mac, and Windows. It is best for agencies, start-ups, freelancers, corporations, or small businesses. The pricing starts at 69.95 dollars. It has a free version and a free trial.
This software aids in simplifying the process of creating videos. Editing videos with this tool is straightforward and fast. Also, you can easily organize your projects and enhance your workflow with the aid of nested timelines. This application is available for Windows and is used by video editors and those who are into video post-production. The starting price is 599 dollars.
Pinnacle Studio Review Conclusions
In conclusion, Pinnacle Studio is a video editing software for creating professional videos or movies. It has a lot of features and templates embedded in it for users to explore. This video editing software doesn't have a free version but a free trial that lasts thirty days. There are many features and effects that you cannot access if you are using the free trial. However, this software is quite affordable.
With the Pinnacle Studio software, you can author the video content in AVCHD, Blu-ray, DVD-Video, or Video CD format. You are also free to include complementary menus and burn them to disc. Pinnacle Studio Ultimate 25 is the most recent version of the Pinnacle Studio products. It has many features that help simplify the process of making movies or videos.
Pinnacle Studio Related Insights