Toonly Reviews
& Product Details
What is Toonly?
Toonly is an explainer video software that makes creating visual content easy. The animation software has many features like props & backgrounds, characters, and music.
The main difference between Toonly and other explainer video software is that its main focus is on animations. Therefore, you will create a video that is more than just a whiteboard animation.
You can make your own animation with Toonly without any experience in the field. It has easy-to-use features and a gentle learning curve. Furthermore, plenty of Toonly tutorials & reviews are available to help you get started with this easy animation software.
Wondering who owns Toonly? It's pretty predictable, to be honest—the same doodlers who created Doodly – the guys from Bryxen. However, the Toons video maker has its signature all over it. With its user-friendly interface, the comprehensive library of props, drag and drop feature, the brother of Doodly makes animation marketing easy-peasy.
Found in these Categories
Best For
Create your first cartoon explainer video.
StartUps

Freelancers

Small Business

Medium Business

Large Enterprise

Non-profit Organization

Personal
Cloud, SaaS, Web-Based

Mobile - Android

Mobile - iPhone

Mobile - iPad

Desktop - Mac

Desktop - Windows

Desktop - Linux

Desktop - Chromebook

On-Premise - Windows

On-Premise - Linux
Company Name

Bryxen

Located In

United Kingdom

Website

voomly.com
Starting from:
$49 /month
Pricing Model: Subscription
Pricing Details:
Toonly pricing plan is split into two Standard and Enterprise with prices ranging from $49 per month to annual plants that enable you to save 17% of the total cost with the maximum price of $790 per year for the Toonly Enterprise version. No free trial is available.
See Toonly Coupons
Animation

Audio Editing

Collaboration Tools

Drag & Drop

Media Library

Privacy Options

Templates

Text Overlay

Text to Video

Voice-over

Customizable Branding

Stock Resources
Additional Features
Unlimited Video Funnels

Text Animations

Tonnly Club

Premium Customer Support
Toonly Review, Features, Pricing & Alternatives
In this Toonly review, we will discuss its features, pricing plans, and benefits. Moreover, we will compare Toonly with some of its alternatives.
Did you know that nearly 1 billion hours of YouTube videos are watched each day? As incredible as this metric is, it is not such a surprise. Videos have ruled the digital marketing area for a while now, and the growth is continuous.
Moreover, the predictions for 2021 say that over 80% of all traffic will consist of video.
In conclusion, there's no doubt that if you want to stand out from the crowd, you need eye-catching visual content. You will need entertaining, engaging & easy to understand videos.
Here is where explainer video software and animation maker tools come into play. Animation videos keep viewers' attention. They also simplify complex topics, are fun & engaging, and fit for almost anything.
You can make your own animation with ease with the right software. Toonly is one of the tools that stand out in the video creators' zone.
Is Toonly any good?
Let's find out together. Toonly is an all-in-one video animation maker software created by the same guys who created Doodly, Bryxen. It's mainly known for its drag-and-drop feature that makes it super easy to use. Suppose you are a marketer, video creator, animator, freelancer, or even a professor or coach. In that case, Toonly might be the right solution for you. Although it is not free animation software, it puts plenty of advantages on its users' tables. Moreover, let's explore in detail all the features the animation software brings to the table and why it is worth having it or not in your software stack.
Toonly detailed features
This Toonly review wouldn't be complete without mentioning the features included. And trust us, there are quite a few.
How to use Toonly? Create your account, install it, or use it on the web & start creating animation videos. The learning curve is almost absent; likewise, the presence of the flowless drag and drop functionality makes Toonly incredibly easy to learn.
Let's say you run into some problems or unclarities. Don't sweat it too much, as there are plenty of Toonly tutorials available out there that will help you out. All you need to create your toon video is creativity.
How to make an animation without props? You just can't. But rest assured, Toonly comes with an extensive props gallery. They are all custom-drawn by Bryxen's professional team of graphic designers. This is another remarkable thing about Toonly, as there are no stock photos, so your video will be unique.
Although there is no category section here, Toonly compensates with the allowance to upload your props; it supports JPG, PNG, and GIF image upload.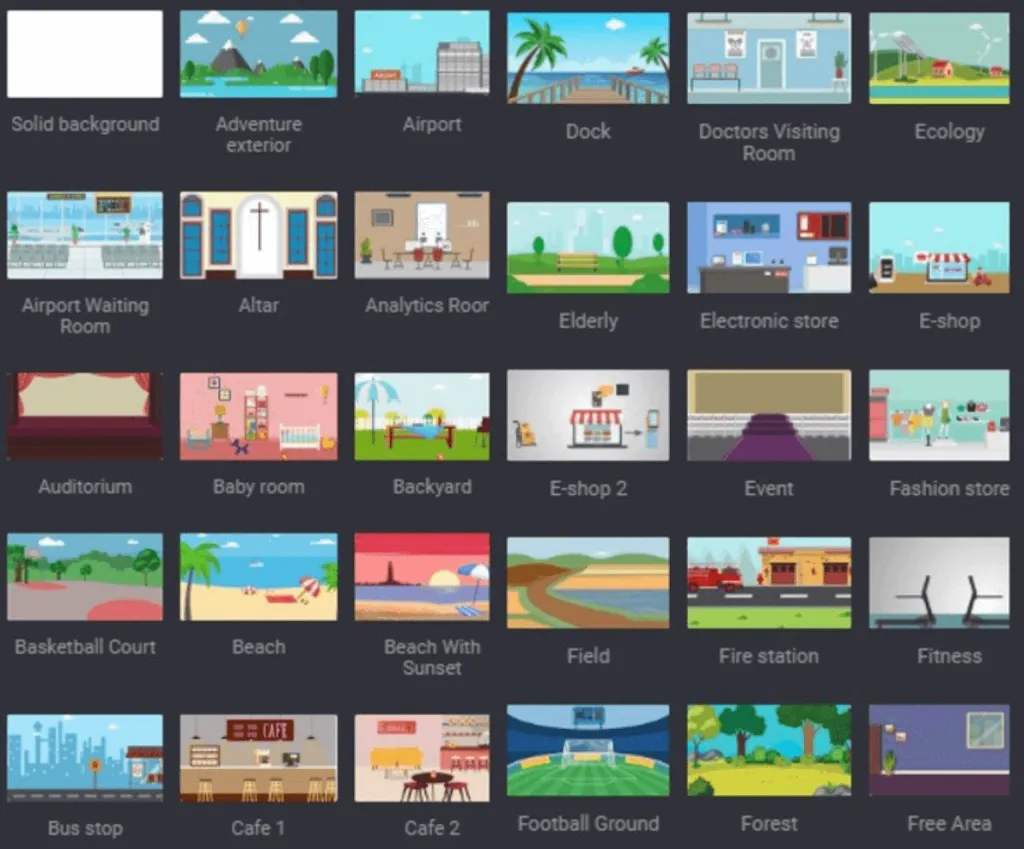 Toonly comes with various designer-made background scenes. As a plus, it also offers the possibility to upload your image (JPG or PNG file).
The gallery contains backgrounds like various scenes, solid colors, and gradients. What might be helpful for some of you is to move elements in the scene backgrounds – it's unavailable. It is just a static image. If what you need in Toonly are some custom scenes, create your own and upload them to the platform.
How to add a background? It's easy in Toonly. Go to the "Backgrounds" tab, select the one you need, and drag & drop it into the project area.
Another key element of Toonly and animation maker tools is the library of characters. Again, Toonly shines as well in this chapter, as the characters available come in different ethnicities, sexes, ages, and a few theme-based ones (superhero, policeman, and more).
Did you see Toonly characters talking? We sure did, and we love it! Besides this, there are several more character animations as:
Clapping
Saying hi
Exercising
Dancing
Yoga
Idle
Lip syncing
To add character expression, you simply have to right-click on the character and select the animation needed from the drop-down menu. However, as mentioned in the cons section, if you upload your own character or object, you can't animate it. Also, you can't manually adjust the character expression.
Want to make your characters talk in your Toonly video? Well, it features lip-syncing. If you think that is hard to set, buddy, you are wrong. Right-click, select the lip-sync animation, choose the audio clip needed, and that's it. As easy as ABC! Lip syncing is enabled, and the mouth starts moving according to the sound selected. No need for manual input.
Text options & animations
Not much, but enough. Firstly, Toonly has four fonts preinstalled and three to five text animations (depending on the pricing plan chosen). However, you can upload your own font, as long as it is OTF, TTF, or WOFF.
Secondly, there is no way to enter custom RGB codes, so you will have to stick to the color options presented.
Thirdly, you can change text animations with the time on screen, color, and opacity, and the start and end font size.
Audio track & voiceover options
Toonly the library contains background music as well. On the other hand, you can upload your own audio files in MP3, WAV, OGG, WMA, FLAC, or AAC formats. This way, you will always have the matching audio for your video.
The record voiceover feature is also in place, and it is (of course) easy to use. When you hit the record button, the animation will start playing. This way, you will record the voiceover perfectly synced with your animation.
However, the customization of the audio tracks is pretty basic. You can:
Adjust the volume
Apply a fade-out effect
Playthrough
Scene transitions & Camera zoom features
When it comes to scene transition, Toonly has quite a few. Therefore, you will have to go to the interface's right side under the Scenes panel to configure. There you will find a drop-down menu from where you can select the scene transition needed.
The camera zoom feature is pretty neat as well. Toonly animations can be even more dynamic by applying a camera pan/zoom effect.
Yes, we know that an auto-save option would be handy. Instead, you can save your newly created video manually. And the export options are various. Directly from Toonly, download your toons video on your computer. Furthermore, export it to other devices or software, or upload it straight to your social media accounts or website.
For example, the resolution sizes to render your animations in Toonly are:
480p (854x480px)
702p (1280x720px)
1080p (1920x1080px)
2K or 1440p (2560x1440px)
4K or 2160p (3840x2160px)
The file formats you can download from Toonly are MP4, OGG, WebM, and MKV.
There is no limit stated on what is the longest video you can make on Toonly. However, keep in mind that increasing the resolution, video quality, or video length will increase the rendering time.
Toonly Download & Installation
Toonly is a desktop application that will install directly on your computer. After you purchase it, you have to select the download option preferred: Windows 32-bit or 64-bit, Mac iOS.
It is essential to mention that it will require an Internet connection. This is because it takes images from the Internet & your saved projects from the cloud.
You can find Toonly tutorials with ease on the Internet. However, the guys from Bryxen created quite an impressive knowledge base. When you buy Toonly, you will get a series of video tutorials, a FAQ page for common issues, a support ticket system, and access to their Facebook group. The last one mentioned has over 35k members, to whom you can discuss the possible roadblocks.
Some more features are worth mentioning.
First, the One-Time Purchase feature of Toonly is pretty great. It is a single subscription option that, once bought, lets you install the software on multiple devices.
Second, the 30-day money-back guarantee offered by Toonly is the best way of ensuring that you and the animation software are a match. If it isn't bringing satisfaction, simply unmatch it, and you will receive your money back.
Third, the regular updates feature is on the table, the same as for Doodly. If there are bugs or missing features, expect them to be resolved rapidly by updates. The video animation software is a hybrid Web + Desktop app, so the updates will be auto-pushed to your computer. Of course, when updates are in store, you will be notified to update the tool.
Toonly Cost
After reading about all the features, you might expect it to be expensive. In fact, the pricing plans are pretty convenient. There are two plans available, and it has monthly & yearly pricing options:
The standard pricing plan is $49/month or $40.33/month when choosing an annual subscription
The Enterprise plan is $79/month or $65.83/month if you want the annual payment option
If you choose the annual subscription, you will get a Toonly discount of 17%.
Even though there is no Toonly trial available, they do offer a 30-day money-back guarantee. Moreover, Toonly one time offer is frequently available.
Alternatives to Toonly
The advantages of explainer videos are numerous. Animation can deliver messages to your audience with ease; it creates a better user experience. By this point, it is pointless to say that explainer videos are a great way to promote businesses, boost conversions, and engage with your audience.
Toonly is a great explainer video maker, but maybe it is not the right one for you.
Some of the best Toonly Alternatives are:
PowToon
Doodly
VideoScribe
Animaker
Viddyoze
Check out all alternatives and an in-depth analysis of Toonly Competitors on our dedicated page.
Toonly Review Conclusion
Is Toonly worth the money? Considering we live in the age of speed when users' attention gap is shorter and shorter, the importance of eye-catching visual content is primordial. Moreover, the cost of hiring a freelancer or media agency to create explainer videos or animations is relatively high.
Toonly helps you do just that: make unlimited professional-looking videos per month with ease by yourself. It is one of the easiest animated explainer video creators.
It might seem expensive at first, but considering all the bucks you are saving overall with visual content creation, it is definitely worth it.