Viddyoze Reviews
& Product Details
What is Viddyoze?
Viddyoze is an excellent and unique web-based video animation software for both non-professionals and professionals of both users. It allows you to create animated video elements using AI or manually, such as Intros, Outros, Call to Action, and more. Viddyoze is a cloud-based video-creating software that is easy to use. Being cloud-based means you can access it from any device from your mobile phone. Use it to create stunning video animations that grab attention, engage audiences and convert viewers into customers.  However, not everybody has the time and knowledge to edit videos. And for this, this video animation software is the perfect video animation software. It has a gallery of 260+ customizable video templates (and counting) and an amazing AI feature capable of taking the load f your shoulders in automatic mode.
Found in these Categories
Best For
Every video your business will ever need.
StartUps

Freelancers

Small Business

Medium Business

Large Enterprise

Non-profit Organization

Personal
Cloud, SaaS, Web-Based

Mobile - Android

Mobile - iPhone

Mobile - iPad

Desktop - Mac

Desktop - Windows

Desktop - Linux

Desktop - Chromebook

On-Premise - Windows

On-Premise - Linux
Company Name

Viddyoze

Located In

United States
Starting from:
$67 One time fee
Pricing Model: Subscription
Pricing Details:
Viddyoze pricing is simple and straight forwards $67 one time fee with full features access at the current features.
See Viddyoze Coupons
Animation

Audio Editing

Customizable Branding

Drag & Drop

Media Library

Privacy Options

Stock Resources

Social Sharing

Text Overlay

Video Editing

Voice-over

Templates
Additional Features
Automated Artificial Intelligence Video Creating Feature
AI-powered presentation creation tool
Presentations & Videos with Engaging Visuals for Hybrid Teams.
Creating outstanding presentations.
Viddyoze review – Is it the most accessible video animation software on the market?
In this Viddyoze review, we will discover together what is Viddyoze, its features, pricing plans, and some of its Best Alternatives.
Viddyoze was founded in 2015 with the goal of helping small businesses create videos without paying high amounts of bucks. Viddyoze is a famous video animation software that allows people with little to no video editing knowledge to create stunning branding videos. Up to the present time, more than 150,000 users worldwide use Viddyoze to create incredible animations that make their videos leap off the screen. During the past 7 years, they kept giving their users the kind of effects that used to need a $1000 After Effects package to create into the hands of people like you. Many articles say that 400 hours of video content ng uploaded to YouTube every minute. Well, that was 5 years ago. Now, that number is a lot higher. The use of video has exploded over the last five years, and more and more businesses are using video. Moreover, every business knows they need it.
While content maintains its position as king, video is gaining serious ground and has begun to spotlight. So much of the information we receive is being presented with a video. That's why you're competing every single time you put out a video of your own. You have to make sure people pay attention.
In the present day, creating eye-catching videos or any dynamic presentation doesn't require breaking the bank anymore. Nowadays, creating videos is unbelievably quick, easy, and cheap.
How come? More and more digital tools like Viddyoze are accessible to everyone.
Eye-catching touches like Viddyoze templates have a massive impact. Whatever content you produce, whatever industry you're in, you can use the killer touches to grab their attention and make them remember your message.
But what makes Viddyoze special?
Let's move on with our Viddyoze review and look at its features and see what it is and how it can help. Furthermore, we will discover if we really can create a stunning video in just one minute.
Sounds like a great marketing campaign, right?
Let's find out in this Viddyoze review if is Viddyoze worth it.
Viddyoze Cost
Even though there is no Viddyoze free trial, there are two pricing plans that suit every need. The Individual Viddyoze Pricing plan is for personal use only. In contrast, the Commercial Pricing plan is for businesses and agencies. In the matter of Viddyoze price, the costs are really good, as both plans are a one-off cost – $97 for the Individual plan and $127 for the Commercial plan.
Furthermore, you can get access to the Viddyoze Template Club. Here you will get over 1500 premier templates, unlimited renders, and cutting-edge animations. Moreover, 15 new templates are added monthly. At what cost? Well, it's only $37/month.
Viddyoze Detailed Features
Viddyoze is all about making your videos better, helping you create content in just a couple of clicks. They continue to update and improve the platform, so you can create videos that generally require an entire animation team or even a film crew.
What can Viddyoze do? First, let's analyze some of its features.
Viddyoze Live Action Animations
Viddyoze Live Action gives you the possibility to add your image or brand to pre-made video templates. It will create the illusion that you hired professionals for your marketing video. Pretty cool, right, buddies?
Who is Viddyoze Live Action for?
Regardless if you have moderate computer and design skills or a Graphic designer looking to upsell animated videos, this feature will help you create stunning video animations. This video animation software is aimed for:
Influencers
Social Media Marketers
eCommerce Store Owners
Business Owners
Entrepreneurs
Graphic Designers
Web Designers
And so on.
Studio Grade Intros & Logo Stingers
We all know that catching viewers' attention is a matter of seconds. In conclusion, the importance of great intros & Logo Stingers is undeniable. With Viddyoze, you can create studio-grade intros & logo stingers in a matter of seconds. At least, that's what they advertise. It might take you a little longer at first. However, after you create a couple of videos, you will see that you will generate high-tech animations with just a few clicks in Viddyoze that used to be possible only with Adobe After Effects.
Social Animations
We all want people to remember us, especially when it comes to social media marketing. On Viddyoze, you will find an extensive gallery of social media templates that will help you grow your online audience. Moreover, you will get square and vertical formats, matching aspect ratios, click to create videos for any social platform, and more.
Transitions
Nobody likes disjointed scene cuts, especially when good transitions hold onto viewers' attention during your videos. With Viddyoze, even boring facts can become an interesting video animation. You can create videos that flow effortlessly from start to finish.
Outros & CTAs
A good Outro is not just beautiful. It must help you with maximizing sales, shares, and sign-ups. In Viddyoze's huge template bank, you will find outro templates that also encourage viewers to take action to close more sales, reinforce your brand messages, and create clear CTAs.
Lower Thirds
Lower Thirds are essential for transmitting the information. However, they are tricky little things. They must be easy to read and give context to your videos without distracting the viewers.
In Viddyoze, you can add great lower thirds with ease without opening any other animation software.
Movie Filters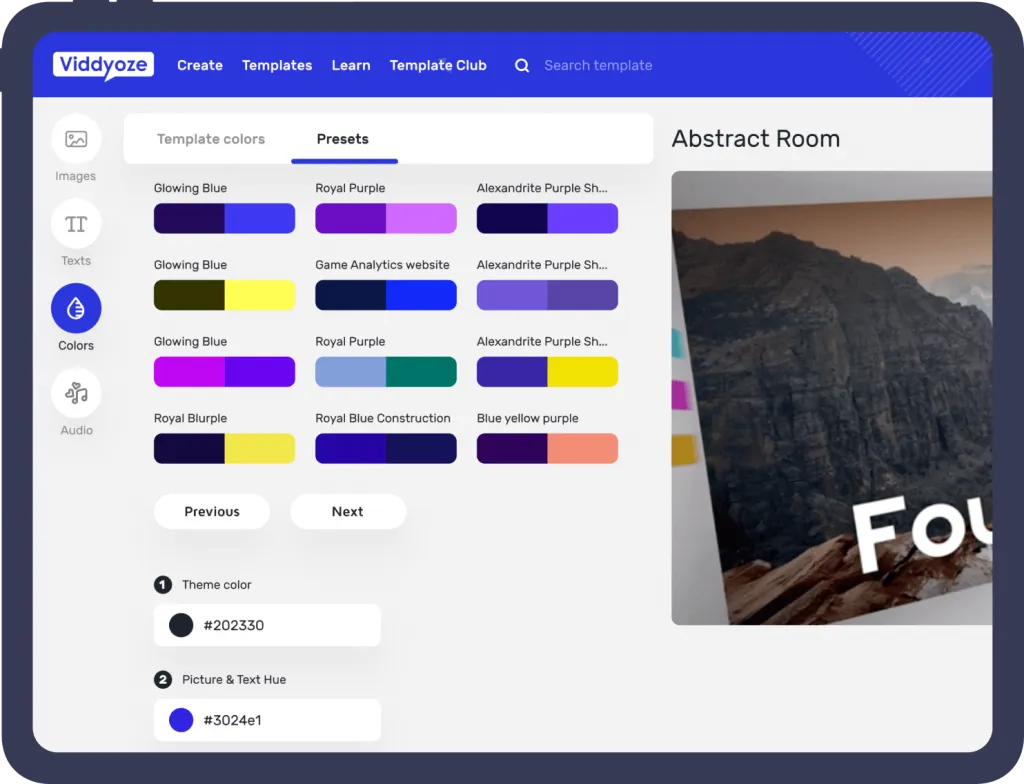 What would be a video without effects? The answer is simple – just another fish in the ocean. In this video animation software, you will find a plentitude of studio-like effects to upgrade your creations like lens flares, light effects, film grain, grading, and more.
ALPHA Technology
This feature is exclusive in Viddyoze. The Alpha Technology feature is a built-in transparency technology that will help you overlay almost every footage and create amazing videos with ease.
Sharing your content
From super-fast rendering, share anywhere to unlimited usage, in this video animation software, you have it all. Cloud rendering works well and fast. The exported files are in MP4 format, making them compatible with all video editors and web platforms. Moreover, there is no limit to how many times you can use a video animation created in Viddyoze.
Video AI
The latest Viddyoze feature changes the way teams create video content in the marketing space. The feature will help you create videos like never before by intuitively learning what you like for a 100% autonomous video creation process in time. The innovative features put the software up with probably the best thought features f its kind as it was constructed based on the user's needs and with them in their mind. Not created by very technical teams, the feature is easy to use by anybody and customer-centered. So, the feature will enable you to turn on the autopilot and give the AI the liberty to create relevant video content for you and step in at any time and give it your personal touch.
Here is what it can do for you:
Scripts
Storyboarding
Finding assets
Pro-audio composing
Create animations
Last, this new AI feature will make creating as many videos as you could possibly want for your business a piece of cake.
Alternatives to Viddyoze
If Viddyoze is not quite right for you, or you are just looking for the best alternatives to change your current video animation software, then we have you covered.
The best Viddyoze Alternatives are:
Toonly
Powtoon
Animaker
VideoScribe
Doodly
And more.
See more details on Viddyoze Alternatives & Competitors page.
Viddyoze Review Conclusion
In summary, Viddyoze is super easy-to-use software. Anyone can use it to create breathtaking animations in just a few clicks, regardless of the level of knowledge.
But, of course, there is a learning curve. However, the good things are worth the effort. And it's not like climbing Everest, as it is with other video animation software.
Let your creativity flow, and use this video animation software to step up your video marketing game.
Viddyoze Related Insights