Small Business, Big Transactions: Choosing the Right Payment Platform
Every small business owner dreams that their company will grow and become popular worldwide one day – as they should. Because dreaming big and working hard towards achieving those goals will make them come true. But as your business grows, it needs to meet additional requirements and standards, both externally and internally. Moreover, they need to keep up with the ever-evolving technology.
Also, let's not forget that the COVID-19 pandemic has forced the adoption of payment alternatives in line with remote work. Look at the payment platforms and solutions nowadays and compare them to the obsolete and traditional ones. So much has changed in terms of financial management and payment platforms over the years.
In the digital era, convenience and flexibility are the norms. Electronic wallets, digital POS services, direct ACH payments, payroll software, and financial technology banking are disruptive technologies that make money operation processes easier. And studies show that by 2025, the market for payment processing solutions is estimated to reach $120 billion. 
Best digital payment solutions to grow small businesses 
Small companies must adapt to any change in society's backdrop, whether technological advancement or a crisis. As a result, payment platforms provide payment solutions to organizations of all sizes, regardless of their stage of development. The most crucial part is to review each digital payment solution to ensure that it meets your needs. Next, let's look at how digital business payment platforms may help you manage your spending and streamline your cash flow.
Melio
Melio is a fintech solution that can handle all your digital business payments and manage expenses. Payment platforms like Melio make working with vendors, contractors, businesses, and accounts very simple. In addition, this financial technology banking is designed for paying bills, printing receipts, and getting paid. It is an automation tool that requires little or no human intervention.
The payment and invoice uploading processes are both automated. This payroll management system makes paying vendors and contractors simple. As for the client management part, this small business payroll software offers accounting support by automating invoicing and online payments due to QuickBooks integration. In addition, Melio centralizes clients and associated invoices from one platform. 
Deel
Deel is one of the most popular payment platforms that do a great job for remote employees' remuneration. Although Deel has been on the market for nearly four years, it already has a good reputation as an HR software and team payroll solution. It meets small businesses' requirements for hiring, paying, and managing contractors in 150 countries. In addition, this law-compliant software is suitable for remote work because business managers can sign agreements for international contract jobs.
Contractors can check all their client invoices within a single dashboard and handle timesheets and payment cycles. Furthermore, this payroll management system includes tax forms to ensure compliance with employment rules in each nation in which Deel operates. Payment platforms that provide analytical reports are a blessing because you can see the bigger picture and find better ways to improve your small business. Thus, Deel payroll software does it without hassle. 
Zoho Payroll
Which payment platform says 'manage payroll in a breeze'? Of course, Zoho Payroll. This cloud-based payroll management app was created to automate payroll processing and the payment schedule so that you pay your employees on time. In addition, Zoho Payroll does all the complicated tasks such as bonuses, allowances, taxes, and deductions calculations. It seems to be the smart accountant every business owner should have.
Furthermore, Zoho Payroll integrates with other Zoho apps like Zoho Books, the accounting system that manages all the company's accounting tasks. At the same time, Zoho Payroll is a reliable bookkeeping software due to its functionalities of keeping track of the bonus structure. As a result, you may employ tax breaks, holiday bonuses, and various profit-sharing schemes.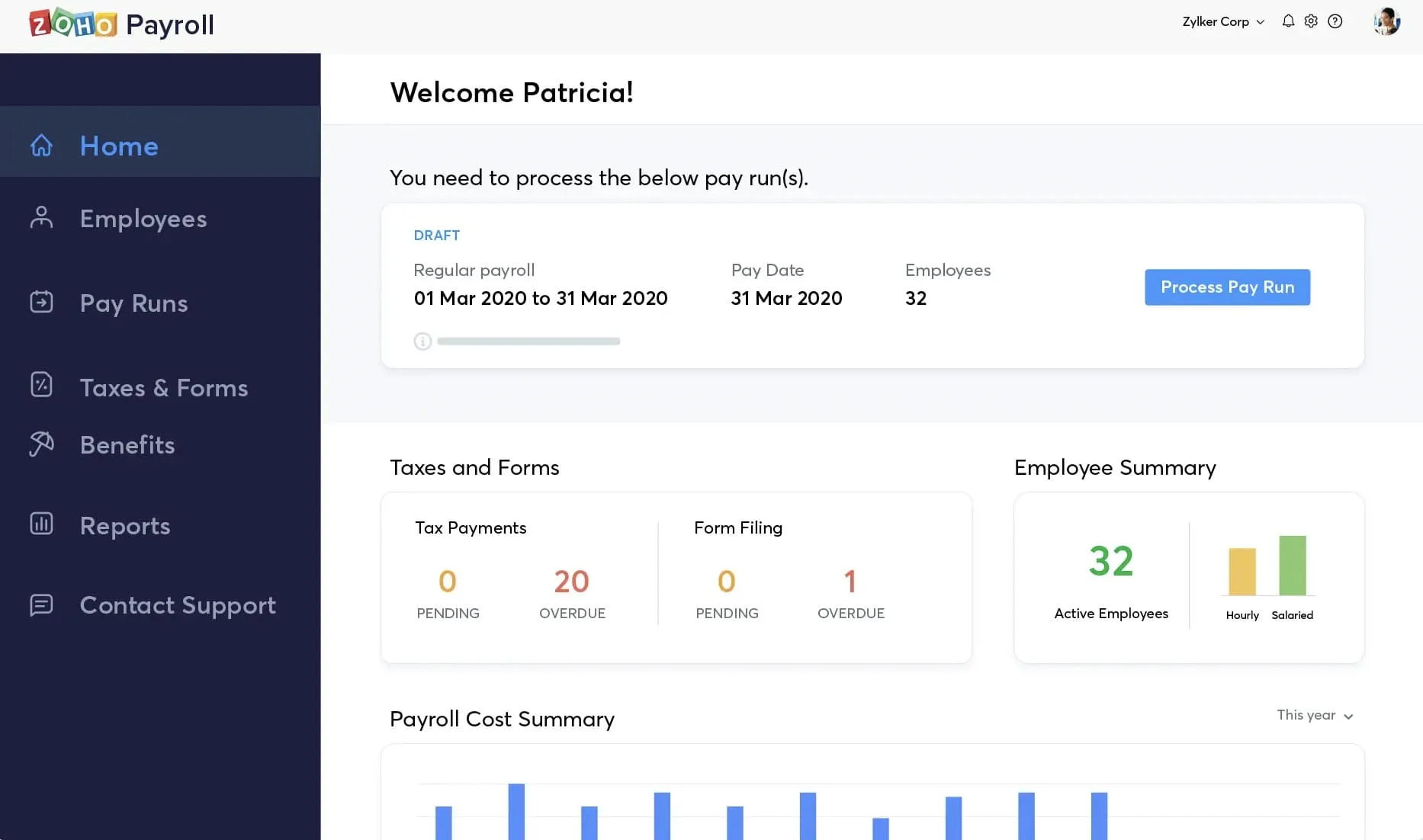 QuickBooks
As the name implies, QuickBooks is one payment platform that makes accounting easier. Is this due to the tutorials it offers? Or to the 24/7 customer service and simple user interface? Or is it because of its features? QuickBook payments are suitable for remote work and teams collaborating from a distance. Furthermore, using the invoice management system, you can estimate and produce custom bills, track payments, and set up recurring invoices, reminders, and shipping expenses. Everything happens in real time. See where the name comes from? In addition, QuickBooks integrates with Shopify, Gusto, Zapier, and many other platforms. The new integration with Docyt makes QuickBook a billing software since it helps you process bills, manage expenses, and capture receipts. 
One software cannot match all businesses' needs. Thus, we compiled a list of the four best payment platforms on the market to help you make the right digital payment software choice for your small business. Expand your business by utilizing the market's leading online payment platforms. These four simple digital payment solutions let you manage your finances and invoices in real time!