ClickUp Alternatives
ClickUp thrives as a project manager. And while it is easy to compare with Trello – another app that scores big with its free options – ClickUp is a complete service. ClickUp is more of an all-around project management platform than Trello, a more task-oriented tool. So let's see some of the best ClickUp Alternatives for project management and team collaboration:
Monday.com
Wrike
Asana
Trello
Slack
Teamwork
Notion
Workzone
What is better than ClickUp?
So, in project management, what is better than ClickUp? Wrike is a notable example of a pound-for-pound alternative to ClickUp, but we still don't think it is better overall. You get many of the same features in Wrike, including real-time collaboration, automation, project management, etc.
Wrike is arguably more flexible with its customizable dashboards, support for Kanban boards, and budget management tools. The service also taps into over 400 integrations to expand Wrike's power across your organization.
Other notable ClickUp alternatives include Asana, Workzone, and Monday.com.
Is Notion better than ClickUp?
Perhaps the biggest direct competitor to ClickUp is Notion, which provides a platform that matches the feature set of ClickUp. However, while Notion is a very usable and capable platform, it needs some improvements to reach the level of ClickUp.
For a start, ClickUp is a much better service on mobile. However, Notion's mobile app requires some work, and performance is an issue on iOS and Android. This seems to be because the apps are merely wraps of the web experience and not dedicated native apps.
ClickUp also wins thanks to its ease of use, including more templates and customization options. While it is subjective, we also think the ClickUp UI looks nicer and is easier to get to grips with. All this makes it seem like we dislike Notion, but that is not the case. It is an excellent platform, especially for personal users, but we still put ClickUp as the better solution.
Helps manage teams & move work forward.
See everything the team's working on in one place.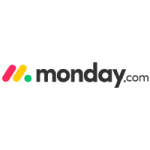 The Work OS that lets you shape workflows your way.