Aha! Reviews
& Product Details
What is Aha!?
Aha! is a suite of product development tools used by over 700,000 builders to help businesses create lovable software. The suite's four products are Roadmaps, Ideas, Create, and Develop.
Roadmaps are intended to assist businesses in developing strategies, prioritizing features, and developing product roadmaps.
Businesses can use Ideas to crowdsource customer requests in a central ideas portal, analyze feedback trends, and engage with their community.
Create is a product manager's expert notebook where they can create beautiful notes and whiteboards using guided templates.
Finally, Develop equips engineering teams with the ability to connect technical work to the product roadmap, optimize workload, and streamline delivery.
Aha! is regarded as one of the best fully remote companies to work for, with the company being self-funded, profitable, and entirely remote.
Found in these Categories
Best For
Create roadmaps, capture ideas, and manage delivery.
StartUps

Freelancers

Small Business

Medium Business

Large Enterprise

Non-profit Organization

Personal
Cloud, SaaS, Web-Based

Mobile - Android

Mobile - iPhone

Mobile - iPad

Desktop - Mac

Desktop - Windows

Desktop - Linux

Desktop - Chromebook

On-Premise - Windows

On-Premise - Linux
Company Name

Aha! Labs Inc

Located In

Canada

Website

aha.io
Starting from:
$9 /user/month
Pricing Model: Subscription
Pricing Details:
Aha! offers multiple products - Roadmaps start at $59 /user/month, Ideas begin at $39 /user/month, Develop starts at $9 /user/month, and Create starts for free. You can start a free trial for each of their products.
Workflows

Traditional Methodologies

To-Do Lists

Task Prioritization

Task Management

Search

Resource Management

Project Planning/Scheduling

Prioritization

Kanban Board

Milestone Tracking

Idea Management

Issue Management

Gantt/Timeline view

Feedback

Due Dates

Drag & Drop

Dashboards

Customization

Customizable Templates

Collaboration Tools

Chat

Cost-to-Completion Tracking

Agile Methodologies

Calendars

Client Portal
Additional Features
API

Ad hoc Reporting

Archiving & Retention

Assignment Management

Brainstorming

Budgeting/Forecasting

Business Plan Templates

Crowdsourcing

Customer Journey Mapping

Dependency Tracking

Design Management

Document Management

Engagement Tracking

Idea Ranking

Ideation

Innovation Management

Iteration Management

KPI Monitoring

Modeling & Simulation

Multi-Department/Project

Negative Feedback Management

Polls/ Voting

Portfolio Management

Product Roadmapping

Production Tracking
See everything the team's working on in one place.
All of your work in one place: Tasks, Docs, Chat, Goals & more.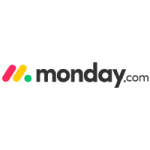 The Work OS that lets you shape workflows your way.