Help Scout Reviews
& Product Details
What is Help Scout?
Help Scout is a straightforward HIPAA-compliant help desk that focuses mostly on email. Customer service, a knowledge base, customization, email integration, satisfaction ratings, mobile applications, and more features are available. A ticketing system is software used to manage customer service requests. It turns all requests into tickets and keeps them all in one location. Email, live chat, SMS, phone calls, and social media can all be used to make requests.
Found in these Categories
Best For
Share inbox, help center & Live Chat software.
StartUps

Freelancers

Small Business

Medium Business

Large Enterprise

Non-profit Organization

Personal
Cloud, SaaS, Web-Based

Mobile - Android

Mobile - iPhone

Mobile - iPad

Desktop - Mac

Desktop - Windows

Desktop - Linux

Desktop - Chromebook

On-Premise - Windows

On-Premise - Linux
Company Name

Help Scout PBC

Located In

United States

Website

helpscout.com
Starting from:
$25 /user/month
Pricing Model: Subscription
Pricing Details:
Standard, Plus, and Pro are the three price levels available to small and medium businesses and organizations. Furthermore, there are special pricing plans for Non-Profit organizations & startups. Help Scout Free trial is available - it lasts for 15 days, and there's no credit card required.
See Help Scout Coupons
Contact Management

Email Management

Activity Dashboard

Support Ticket Management

Access Controls/Permissions

Alerts/Escalation

Appointment Management

Assignment Management

Auto-Responders

Automated Routing

Call Monitoring

Call Recording

Call Routing

Call Center Management

Chat/Messaging

Reporting & Statistics

Multi-Channel Management

Communication Management

User Management

Transcripts/Chat History

Self Service Portal

Rules-Based Workflow

Prioritization

Live Chat

Interaction Tracking

Customer Database

Performance Management

Queue Management

Help Desk Management

Incident Management

Client Portal

Issue Management

Inbox Management

Full Text Search

Real-Time Monitoring

Offline Form

Task Management

Compliance Management

Contract/License Management

Feedback Management

Collaboration Tools

Configurable Workflow
Customer service software that puts customers 1st.
Engage in more meaningful conversations across every channel.
A ticket is a support request sent by a user or a client to the helpdesk. It's identified by a number (called a ticket number). It might be about anything: a shipment issue, an order, a technical issue, or a financial issue.
Help Scout started a revolution a decade ago when it turned customer service into a powerful marketing tool. As a result, businesses could develop long-term, meaningful connections with their customers. By providing great customer service, Help Scout transformed the culture of organizations and made them more thoughtful of their consumers. Continue reading our Help Scout review to learn more about this customer support software.
Help Scout: A Cloud-Based Help Desk Platform
Help Scout is great for any business or organization that provides outstanding customer service. The platform provides users and their teams a shared inbox, allowing customer service cooperation anytime an email or request is received.
Help Scout's reporting tool allows users to track team performance, customer happiness, and trends. Users may also see which emails have been answered in real time, reducing the danger of more team members responding to the same client.
There's also an integrated knowledge base, a comprehensive API, and many interfaces with the Help Scout software. In addition, users may give remote customer assistance using the app on Windows, iOS, and Android smartphones.
What does Help Scout software do?
Help Scout is a popular cloud-based help desk software used by small and big enterprises to manage their client connections better. Many of the capabilities and operations of this cloud-based help desk software are typical of a help desk service, but with the added benefit of providing a more customized and positive client experience.
Customers aren't intended to be treated like numbers on a bloated ticketing site. They should be viewed as chances to strengthen your public relations. It's not going to help to push them about. Help Scout provides the playing field for support cooperation anytime a client needs it.
Help Scout, on the other hand, strives to reduce any complexity that comes with helpdesk software. The main goal of Help Scout is to manage customer interactions better while also raising user experience standards and providing higher pleasure to consumers when they connect with businesses.
Isn't it the most effective support desk software available? So, let's see what this program excels at.
Used for Finding Resources
For organizations built on information sharing and learning principles, the student's success takes precedence. In this situation, having a help desk that can give significant insight into students' talks is critical.
Even though Help Scout provides consolidated access to any commonly asked questions via the knowledge base, accessing that information becomes tough. For customer support representatives, the platform is rather tough to use. There are data science and analytics resources, but they are useless if they are difficult to obtain.
Organizations must scale their efforts to expand and automate things as they grow. They must improve the effectiveness of their customer service systems. The systems should assist teams in making things simpler for their clients rather than tougher.
After onboarding, the minimal customization choices and restricted number of connectors don't help firms much.
The customer care system is fairly nice, but to make it truly strong, you must include adequate customization possibilities and app connections to benefit your consumers and improve their experience.
The Help Desk has merged with many firms' CRM solutions. As a result, companies were given solutions to assist them in maintaining the high level of responsiveness necessary to keep strong client connections.
Help Scout attracts consumers and clients effortlessly because of its concentrated service. However, keeping these consumers and clients beyond a certain point becomes challenging.
A concentrated product can solve a restricted set of problems. You must be open to prospects and give something for which consumers will return to you to keep clients after enticing them.
Help Scout Features Explained
Help Scout help desk software has email management features that allow users to organize their emails, interact with other team members, and assure customer satisfaction. For example, a user may use this to allocate discussions to a particular team member, work with others to solve problems and observe who responds to customer emails in real-time.
Users can manage phone, chat, and email discussions from a single inbox using Help Scout.
Users may also break chats into other categories for reporting and automation reasons. However, the list of features that makes it stand out among the rest is discussed below:
In addition to distinct teams and email accounts, you can now utilize separate mailboxes to organize all of your customer discussions. All team members can simply exchange information and ensure everyone is on the same page with features like Private Notes, Saved Replies, Collision Detection, and Tagging.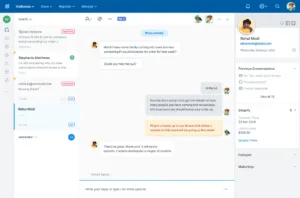 On the Docs editor, almost everyone can assist produce content for clients. However, there are certain limits to customizing any categories, articles, or associated SEO data in one spot.
It would be best if you integrated the Docs article on any web page to feel more like a part of your website. There's also an auto-generated sitemap for your knowledge base and SEO choices for each article that should be easier to set up than the present one.
The knowledge base in Help Scout's help desk software allows users to develop and publish answers for clients. The Docs editor with Help Scout allows users to produce useful client information. They may also customize all connected articles and SEO data without logging out. For example, with the Docs Report, users may learn what their consumers want, what they find (or don't discover), and what proportion of those customers still contact customer service. A Docs API also contains endpoints users require to personalize their knowledge base experience.
You may send a message from any website, blog, app, or store using a Beacon. This might help you cut down on support queries.
You can construct your logic and trigger messages with an extra line of JavaScript. In addition, the in-app chat functionality will have ratings, reporting, and Mobile SDK support.
Help Scout keeps track of all past interactions and activities from other applications when working on a customer support issue. For example, on Help Scout, each of your clients with whom you've spoken through Beacon will have a profile.
You may connect your client database to Help Scout by integrating or creating your bespoke app. It prevents your personnel from treating them like numbers.
Reports assist you in assessing your team's volume channel across all communication channels, including discussions, chats, documents, Customer Happiness Reports, email, phone, and company. You can also use advanced filters to sort your data.
Using the Live Chat feature, you can eliminate high chat volume and disgruntled clients left waiting. In addition, customers may simply access all of the support information thanks to Beacon.
Beacon also ensures that customers do not see the live chat window until someone can talk with them. Self Service, Neutral, and Ask First are among the customization choices available in Beacon, allowing you to lead clients through the first screening process. In brief, the Live Chat feature will help you enhance your customer service.
The report from Help Scout help desk software gives you a detailed look into your interactions, emails, chats, documents, company, and customer satisfaction. This report assesses a team's or company's busiest hours and popular themes among clients. In addition, users may get a summary of each team's email productivity, including numbers for response, resolution, and handling time.
Help Scout gives consumers an overview of all made phone calls and which team members spend the most time talking with customers regarding calls. Users may also view any team member's performance indicators, such as the number of daily discussions.
Users may use customer satisfaction ratings to increase consumer pleasure. For example, users can tell if they should congratulate the team or brainstorm how to make a client happy. You may also export these reports to CSV or Excel for better access.
Users may change Beacon settings without having to type any code. However, users may utilize a JavaScript API to manage and configure Beacon using code lines. For example, Help Scout users may authenticate a customer without having them log in using Beacon.
Help Scout may be combined with various tools for content management, including analytics, communication, CRM, marketing, and eCommerce. In addition to Help Scout, you can connect practically any product you love and use for your business operations or customer support to make the process easier for your personnel.
Users may link HubSpot, Jira, and Salesforce using Help Scout's help desk software. In addition, users may upload information about their customers into HubSpot with Help Scout, and customer support teams have comprehensive details on the clients they are responding to. A HubSpot integration allows Help Scout users to see information such as a customer's lifecycle stage, HubSpot owner, predicted lead score, total revenue, workflow membership, and more.
Help Scout users who utilize Salesforce receive complete information on the clients whose emails they read and respond to.
Users may examine all relevant and custom fields fetched from Salesforce in the Help Scout Customer Profile window. Help Scout Conversation history is also available on four types of Salesforce records: Accounts, Contacts, Leads, and Opportunities.
Help Scout users, and their support teams can manage issues, access details of any Jira issue, and increase productivity with a Jira connection. They can also link and unlink Jira issues to any Help Scout topic, create new Jira issues with attachments, and link them to any conversation. In addition, users may navigate to a specific Jira problem and view crucial ticket data, such as the Summary title and Issue Type, by clicking on the relevant link.
Snap Engage, Constant Contact, Campaign Monitor, Pipeline Deals, KISSmetrics, Kickstarter, FreshBooks, Infusionsoft (powered by Zapier), Nicereply, and many other connection options are available.
Beacon support in Help Scout help desk software encourages users to maintain all-important client data on the platform. Companies may use this to provide live chat, recommend appropriate assistance articles, and give consumers access to their support history without leaving the website.
Help Scout Review Conclusions
Users may rely on Help Scout help desk software for security and dependability. In addition, Help Scout hires security experts and pen testers to identify any security flaws to guarantee maximum security. The program also complies with data protection rules in the European Union, encrypts users' emails using transport layer security and secure sockets layer, and follows the Privacy Shield and Safe Harbor best practices.
Furthermore, Help Scout's 99.99 percent uptime assures that users are not disappointed.
Several customer service applications and ticketing system software options are available, but the one that best suits your needs is the best. We tried to cover all of the features and functions of the Help Scout ticketing system in our evaluation and the issues that need to be fixed. The evaluation is based on genuine Help Scout evaluations from program users. Clients range from health and wellness centers to veterinary clinics and even individual pet owners.
Is Help Scout a Good Fit?
Help Scout is a good solution if you're seeking low-cost customer support software with live chat and various connections. In addition, companies may allocate messages to individuals and teams in the email inbox, which will streamline the customer service process.
We discovered that the ticketing system was not as user-friendly as some rivals, such as HappyFox. Therefore, we recommend searching elsewhere if simplified ticketing is your primary goal with this sort of software.